At 15 years of age, Suncoast Christian College student pilot, Jesse De Jong is one of the youngest Australians to gain a licence to fly. Supported by his hard-working and inspirational Sunshine Coast family, Jesse has dedicated himself to self-funding the cost of flying lessons and plane hire. He is now planning a career as a commercial pilot.
---
Inspired Beginnings
Jesse's journey as a student pilot began with a chance conversation while watching his brother playing soccer at Marcoola. Jesse's father Greg De Jong recalls, "we were watching my other son Jordan play soccer and while we were kicking the ball around, we looked in awe at the big jets landing at Sunshine Coast Airport. I said to Jesse, why don't you do that for a career"?
Fast forward several months where Jesse attended the Open Day at Sunshine Coast Aero Club. Greg comments, "Jesse loved the whole experience. We booked an introductory flight for him and his instructor even let him land the plane. From then on Jesse was sold, there was no going back".
Jesse explains, "my first introductory flight was hands-on, the instructor let me take the controls, which is allowed when there is a qualified pilot beside you. I fell in love with flying because I was able to control the plane. I got my hands on the controls and I got to feel what it is like to fly".
Work Ethic
The De Jong family are the first to admit that gaining a pilot's licence is not cheap. Costs so far have exceeded $7,000. The impressive story is that Jesse has worked in the family pizza business and at McDonald's to save the money for lessons and for the hire of the plane.
Jesse's Mum Susan explains, "it is not like we gave him the money and said here you are, go get your pilot's licence. Jesse was working in our pizza shop earning money to pay for his flying lessons. Jesse also applied to all the local McDonald's stores and landed a job, basically doing as many shifts as he could to save up money to go towards his flying".
"We are very proud that Jesse has discovered the rewards of hard work – getting that perspective has been super valuable for him," says Greg.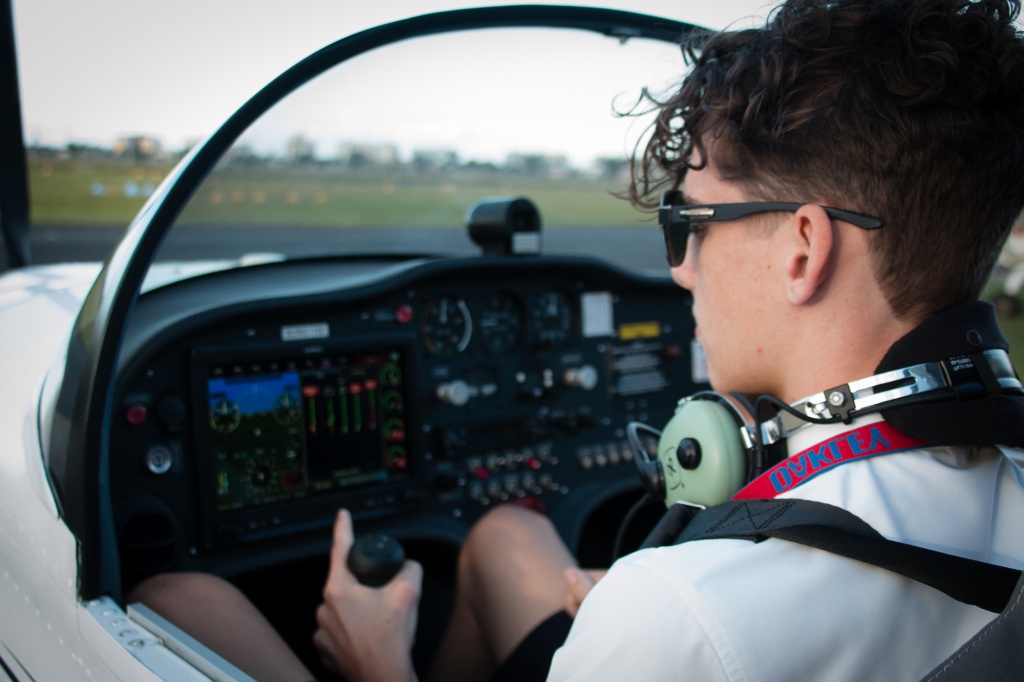 Nervous Parents?
Greg explains that he and Susan overcame the initial trepidation about Jesse as a solo pilot. "His very first solo flight… that was the worst. We were sitting there with the instructor at the end of the runway just watching Jesse fly the airplane in. We had no idea what it was like in there, so for his second flight we placed a GoPro camera in the plane and we could see just how relaxed and how comfortable he was doing it. Now we don't really worry at all because we see that flying is just like second nature to him".
Susan explains further, "as parents, we are extremely proud of what he has achieved, there is a long way to go to become a commercial pilot. We actually think that for Jesse, the flying is the easy part – he gets the plane ready, he flies it, he lands it. He is naturally gifted for flying".
Greg comments, "now Jesse typically flies once a fortnight. He hires a plane and flies it so he is not under the guidance of an instructor anymore. He is also permitted to take other people up (including us) with him. When that happens, it's a whole other journey".
The Future
The De Jong family are under no illusions regarding what it will take for Jesse to achieve his dream of becoming a commercial pilot, as Greg explains "for a 15-year-old flying an airplane is a lot of fun, but to be accepted by Qantas or Virgin you need good grades – you need to study hard".
Jesse's Year 10 Coordinator (at Suncoast Christian College) Lourens Warricker comments, "for Jesse this will be the next challenge… making sure that he balances his flying with his academic performance. He is focused on his goals, he is a great role model for his peers and I suspect he has all the makings of an excellent commercial pilot".
Jesse has found something that he really loves to do, and while we are encouraging, we are trying not to be too forceful. He knows what he wants and now he just has to do the hard work, both in the plane and in the books.
Jesse puts it this way, "I love the freedom of being alone in the sky, just me and my plane. I feel like I can go wherever I like, it's like I have no limits".
Recent Posts