The Cafe is a 'hub' of the College, being popular with all students. The Cafe is open five days a week with pre-ordered lunches delivered to Primary classes while online ordering (via Flexischools) is also available for all students.
Ordering Options
The College Cafe provides a number of flexible and accessible ordering methods as follows:
Order Online – Flexischools
Flexischools is an online payment processing system that allows parents and pay for a wide range of school activities from home via mobile. To setup you Flexischools account please refer to these setup instructions.
Step 1: If you have not already registered for Flexischools. If not simply register via Flexischools website and enter your children's names and classes.
Step 2: Once registered and logged in, parents can begin placing orders immediately.
Order by Student ID Card
Secondary students can also use their Student ID Cards to purchase items directly at the College Cafe.
Student cards needed to be loaded with funds via Flexischools
Click here for more information on how to link a Student Card
Cash
Students can use cash at the College Cafe.
Paper Lunch Bag
Write on bag: child's name, class, teacher, morning tea or lunch + food order
Advise if gluten-free
Place cash in the bag
Place in the Café box in the classroom
How are lunches delivered to students?
Primary students: Orders will be delivered to classrooms
Secondary students: Orders to be collected from the College Café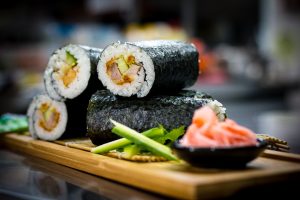 Cafe Menu
Download the current Cafe Menu

Contact College Cafe
Telephone: 5451 3635
Email: [email protected]
Cafe Location
The College Café (Tuckshop) is located in F Block and caters for Primary and Secondary students from 8:30 am to 3:00 pm.
College Cafe Volunteers
Volunteering at our College Café is a great way to make friends and to participate in College life. If you would like to volunteer please contact Sharon on 5451 3635 or email [email protected]
Special Dietary Requirements
If you are vegetarian or require gluten free please let us know. Gluten free options are marked with GF and Vegetarian marked with VEG on the menu. Menu and price lists are available at the beginning of each Term.
---
Suncoast Christian College Cafe – Food Gallery